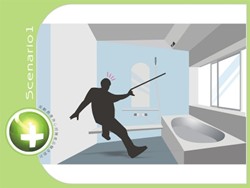 NATIONAL BATH SAFETY MONTH
Remember that January is Bath Safety Month. Watch for items or actions that may cause a serious accident during bath time. According to a survey by Consumer Product Safety Commission, an average of 370 people in the U.S. suffer bathtub or shower related injuries each day. Accidents include falls, slips, and hot water burns. People with limited mobility need to be extra cautious.
It is important that a bathroom has safety rails for elderly and physically impaired. It is also important that needed items are within easy reach of use. Safety (anti-skid) mats for tubs and showers and rugs on bathroom floor assist in preventing slipping incidents. Excessive items that take up floor space or cause clutter should be limited or eliminated altogether. Electrical switches, plugs, and items should be kept away from water.
For more tips, please visit the Bath Safety Months links. Your safety depends on you!